Description
Are Sore Ribs Cutting Short Your Time In The Water?
(Did you know that PaddleAir Ergo can also give you More Paddling Power from every stroke? )
---
Rib Cage Relief and More Paddling Power is Here!
Do you ever find yourself having to come in because your ribs are so sore?
And then it hurts for several days.
Think of all those waves you're missing!
Maybe you can relate to Roger Savage, owner of The Surf Guru
"If I haven't been in the water for a while (this happens more often than I'd like) I'll generally want to stay out for hours to make the most of it, especially if it's cranking.What often used to happen to me was that my lower ribs would get really sore from the deck of my board and I'd have to go in. And they'd stay really sore for a week or so …"
Now PaddleAir Ergo gives you an adjustable cushion of air to protect your ribs.
What makes PaddleAir Ergo so awesome?
It's functional, simple to use and it works!
Just check out the Facts:
Reduces Repetitive Stress Injuries resulting from prone paddling
Reduces muscle fatigue and trunk extension*
Improves paddling position for more power-per-stroke
Provides cushion to chest and protects rib-cage
Ergonomically designed for high-performance
UPF 50+ UV protection
Neoprene front and lycra body – very stylish design
Can be worn over a wetsuit or by itself
Great for both shortboards and longboards
Also great for kneeboards and bodyboards
* Tests carried out by Dept. of Kinesiology California State University, San Marcos as reported in "The Journal of Applied Biomechanics (Volume 44, Issue 4, August 2017)"
How Does It Work?

The best description I can find comes from Malcolm Dadd who did a review of the first generation PaddleAir products in "Pacific Longboarder" mag in 2006. By the way, the Ergo is a second generation PaddleAir product.
Here's what Malcolm had to say:
"Starting to dream about surfing more than ya surf? Ya back's stuffed from those labouring jobs you took as a grommet so you could get to Ulu? You're outta nick and overweight and your shoulders feel like jelly?
The problem can be solved, PaddleAir is the name for fun at the game. It's a rashie with an air pocket stitched in at chest level – two puffs and you are immediately in the perfect paddling position – chest up, head up and back slightly arched ready to rip.
The PaddleAir system was designed by David Hilts, a tinkering Seppo from Huntington Beach. A fit, mature-aged surfer, David basically wanted to surf more and surf longer. It slips over your wettie in winter and your skin in summer and a little side benefit is that it is UV resistant.
The next question to ask yourself is, "Do I need to use one?" Well, the PaddleAir is definitely not just for decrepit old codgers. When the air chamber is inflated it fills the space between your chest and your plank, taking pressure off the back muscles and conserving energy. This extends water time for all levels. In the States they're real popular with travelling surfers – perfect for when you get sore after a few days on an extended trip.
And if you've had broken ribs or cartilage problems or you have a bit of a pressure lump, hernias around the tummy, a dicky shoulder or mild to severe back pain or surgery that hinders you from laying flat on a hard surface (that's why they make women soft and cuddly) – then the PaddleAir rashie is a life-changing device.
Think about this! Does the missus say to her friends, "Cyril really loves his surfing", when she should be saying, "Cyril is a real tube hunter".
The PaddleAir stops you from dreaming about surfing the North Coast points, the reefs, the ledges and beaches around the country and allows you to do it. But, most importantly, you can have a surf and keep right up with your mates and kids again."
---
How quickly will it arrive?
Our aim is to get your PaddleAir Ergo to you as quickly as we can – we know you're hanging out for it!
Most PaddleAirs ship out same day and arrive safely within a few days.
If you want it even quicker, then we suggest that you pay with PayPal and select Express Post. We will email you when your PaddleAir has been shipped.

---
Sizing
Note that we now have Size XXXL in stock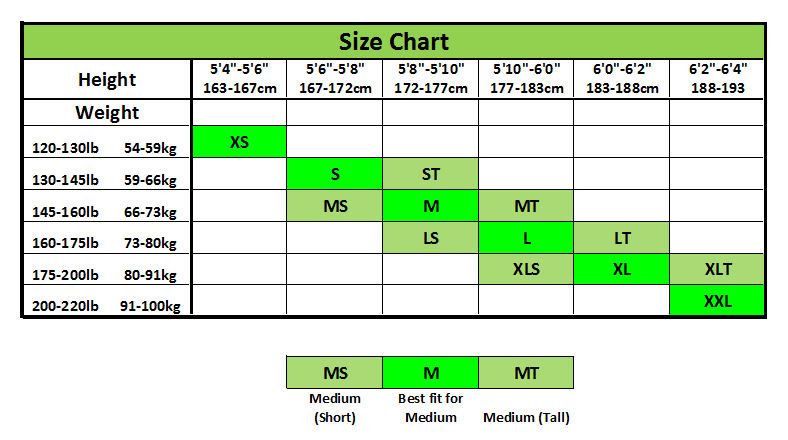 Use the size chart above as a guide.
Note that the actual sizes available are in Bright Green.
If you fall into an Olive Green range, then use your judgement as to which Bright Green size to choose.
Normally Weight is the best indicator, rather than height unless you're quite stocky for your weight

---
Testimonials
"I just want to thank you for such a tremendous product. I recently purchased the Ergo for Father's Day. I injured my Xiphoid process (part of the lower ribs) while surfing about two years ago. After a session I would re-injure the old wound and suffer pain for up to five days after. My doctor said basically to live with it and lay off surfing. I could not drop the sport that I grew up loving though. I looked around the internet and found you guys … Apparently other guys share my problem. Thank God! After two long sessions on my fish I have experienced no pain, plus I can paddle into a wave like I'm 18 again. I am one happy customer.
I've learned not to over inflate the air bladder. Just a couple of puffs is all I need to protect my ribs and keep my board comfortably under me. I am still totally impressed with the power it generates. I am recommending it to a friend o mine, Justin, who surfs with back pain. I think the air support can only help him as he is a middle aged dude like me." Cliff Mckittrick Camden, SC Age 36
"Received the PaddleAir on Friday, thanks for the fast service. Surfed on Saturday and it worked better than I had expected, my sternum had been that sore I would not have been able to paddle without it. Also found it also helped with the neck and back fatigue.
By the way I'm 57 and just getting back into it after not surfing for about 25years, not only am I a bit rusty, I think I have rusted.
The PaddleAir has made it so much easier to paddle that I will be able to spend more time in the water to increase my fitness which will make it a better experience all round." Gary of Mornington VIC
"Back from Sumbawa – some great waves had – excellent trip. The PaddleAir stopped the soreness and rib rub perfectly.
Over all I found the PaddleAir very comfortable and used the bladder only with a little air inside it; mostly for the long paddles back out to the line up – Just the extra thickness across the ribs was great." Malcolm of Halls Head WA
"I am an "older" longboarder. I borrowed a friend's Ergo to see if it helped with my slightly protruding rib which hurt during and after any surf session. Surfed for a couple of hours with no discomfort at all! I also noticed the improved paddling position which seemed to make paddling easier and definitely lessened the load on my lower back. Loved it, good quality product which does everything the ad says." Peter of Taree NSW
Note
Where Testimonials are given, they represent the experiences that have been provided by individual clients and may not be typical of what every individual will experience. All testimonials are provided voluntarily, without payment, inducement or other benefit and are from genuine clients.