Rib Rocket Padded Rash Vest by PaddleAir
in stock
---
Do you ever find yourself having to come in because your ribs are so sore? And then it hurts for several days. Think of all those waves you're missing!
Are Sore Ribs Cutting Short Your Time In The Water?
(Did you know that EPS expoxy boards are much harder than traditional fibreglass and rib pain is becoming much more common? )
Rib Cage Relief at Last with the Rib Rocket!
Do you ever find yourself having to come in because your ribs are so sore?
And then it hurts for several days.
Think of all those waves you're missing!
Tried sticking padding under your rashie and found that it's more trouble than it's worth?
Maybe you can relate to Roger Savage, owner of  The Surf Guru
"If I haven't been in the water for a while (this happens more often than I'd like) I'll generally want to stay out for hours to make the most of it, especially if it's cranking.What often used to happen to me was that my lower ribs would get really sore from the deck of my board and I'd have to go in. And they'd stay really sore for a week or so …"
Now the Rib Rocket from PaddleAir Ergo gives you effortless protection for your ribs.
What makes Rib Rocket so awesome?
It's functional, simple to use and it works!
Just check out the Facts:
Provides cushion to chest and protects rib-cage
Tread-like design provides positive gripping contact for stable take-offs
Added impact protection for upper torso
Ergonomically designed for high-performance
UPF 50+ UV protection
Neoprene front (with PVC padding) and lycra body – very stylish design
Can be worn over a wetsuit or by itself
Great for both shortboards and longboards
Also great for kneeboards and bodyboards
Guy Takayama with his Rib Rocket
How Does It Work?
The Rib Rocket is designed in California and has strategically placed PVC foam padding sewn into areas where the ribs come in contact with the board during prone paddling. The padding is just enough to soften the impact where cartilage bone meets board and glass. We found that more surfers have been suffering rib pain because of the new EPS epoxy boards that are much harder than traditional fiberglass resins. Rib Rocket addresses these problems and offers a comfortable solution for all that suffer from rib pain.
The Rib Rocket features a 2mm neoprene front panel with sewn-in PVC padding for comfort and stability and a Lycra back for a fine fit and cooler material for warmer climates. Also, a board short loop connects the garment to trunks to prevent ride up and a side draw string to snug the garment around the waist. Additionally, it provides 50+ U.V. protection from the sun.
---
How quickly will it arrive?
Our aim is to get your Rib Rocket to you as quickly as we can – we know you're hanging out for it!
Most Rib Rockets ship out same day and arrive safely within a few days.
If you want it even quicker, then we suggest that you pay with PayPal and select Express Post. We will email you when your Rib Rocket has been shipped.
For more details see both our Payment Policy and Shipping & Handling Policy.
---
Sizing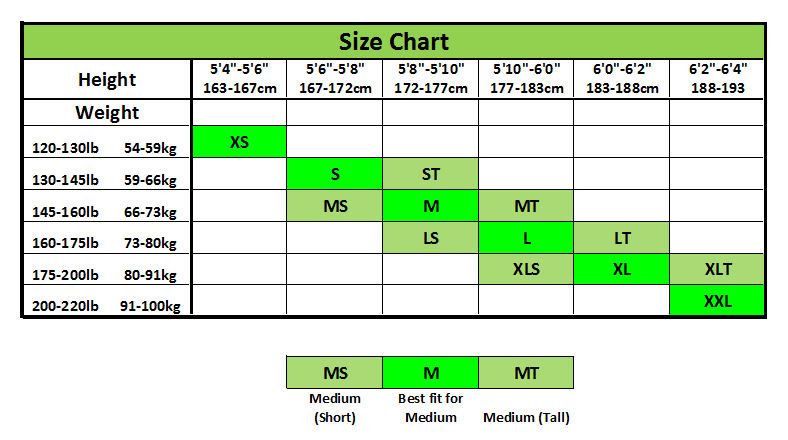 Use the size chart above as a guide.
Note that the actual sizes available are in Bright Green.
If you fall into an Olive Green range, then use your judgement as to which Bright Green size to choose.
Normally Height is the best indicator, rather than weight unless you're quite stocky for your height
---
Testimonials
"So this Surf Pirate has a somewhat deformed sternum, it sticks out like a knuckle , most painful thing any surfer can endure.  I had a PaddleAir Ergo which was really good , served me well over 5 years from Snapper to D'bah to Samoa and the Ments . Sadly it died a few months ago and since then I had been packing my rashies with superglued bits of yoga mat .. dodgy and still murder on the sternum, so I went to get another Paddle Air , and lo and behold, they have a new toy called a Rib Rocket. I went onto The Surf Guru where I originally bought my Ergo and next day was holding my new Rib Rocket in my grubby paws.. Fast forward a few days and today we had some punchy lumpy D'Bah, pretty raw, so much so that for almost half an hour I was alone out there, lots of paddling getting smashed with bombs on the head, and some long and hard paddles. Three hours later, arms lame, I went in and as I sit here I am pain free…
ABSOLUTELY pain free for the first time in months… Normally this kind of day would have me dry docked in pain for 3 days…
So yeah, if anyone has the sternum/tender rib deal,  I would strongly suggest looking at this awesome new vest   …"    Gordon (the Mad Pirate) at www.madpirate.com.au
The Mad Pirate is pleased as punch with his Rib Rocket
"I've purchased both a PaddleAir vest and Rib Rocket vest from Roger at The Surf Guru. Not only did the vests totally eliminate my back and chest pain allowing me to surf as long and as frequently as I want, I found Roger to be completely professional and a top bloke. Great, fast service and would recommend to all. All in all, I think the Rib Rocket especially, is bloody fantastic!!"    Daryl Redwood  Brisbane QLD
Note: Where Testimonials are given, they represent the experiences that have been provided by individual clients and may not be typical of what every individual will experience. All testimonials are provided voluntarily, without payment, inducement or other benefit and are from genuine clients.
Accessories, Miscellaneous, PaddleAir, Rashies, Wetsuits, Wetsuits/Rashies inflatable rashie PaddleAir rash vest rashie stop sore ribs
Related Products