Polypropylene Long Sleeve Top M
sorry, we are out of stock
The Polypropylene Top gives you freedom of movement while keeping you warm! It's almost like summer surfing in boardies!

Want that bit of Extra Warmth,
but don't want to pay a Fortune for it?
Get A Good Quality Thermal Top
At A Fair Dinkum Price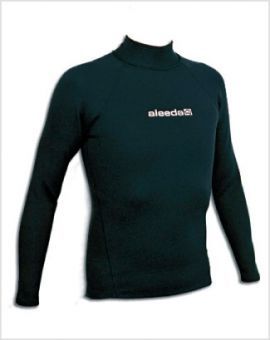 This'll keep you warm and toasty when it's nippy out there.
Why Aleeda?
AT The Surf Guru we're dedicated to bringing you the best quality and value for money products we can find for every product category that we sell. We know that you take your sport seriously and you don't want waste your money on overpriced, overhyped products or products that simply don't work or won't last.
That's why it's taken us quite a while to select a wetsuit manufacturer that we can recommend.
At last we've found one!
Aleeda are an Australian company, based at Burleigh Heads, who've been making wetsuits and lycra tops since the 1960′s.
They're a company who've gone the distance, just like their wetsuits! They're deeply involved not only in Surfing, Bodyboarding, Kite and Sail, but also with Surf Life Saving and Rescue and Emergency Services, Paddling disciplines, Surf Schools and Triathlons.
Aleeda sell a lot to surf schools and other people like that really give their gear a hammering. They're on and off many times a day and they don't always get looked after terribly well. They often just get thrown in a heap and don't get rinsed and generally get trashed. But they keep coming back for more so they must be getting good value for money.

Aleeda don't waste heaps of money on sponsorship, they just make great performance wetsuits and rashies at affordable prices. You're the one who reaps the benefits. You're not paying for the name.
So here's what it comes down to
With Aleeda you'll get gear that's excellent quality and won't cost you the earth.
You'll get gear that's going to go the distance!

We stock the full range of Aleeda tops - and there are quite a few, so we thought we'd produce this comparison chart to help you choose which will be the best top for you right now.
---
Did You Know?
Polypropylene is the lightest of all synthetic and natural fibres.
It also has excellent insulation properties and naturally expels water to the outside.
It's also a lot cheaper than neoprene to manufacture.

This is why Aleeda have used polypropylene to make this amazingly light and efficient high tech thermal top.
One of the Best Value For Money Tops on the market!

Wear it by itself or under another wetsuit to give you more warmth per dollar.
This Polypropylene Top is perfect if you're into surfing, scuba diving, snorkeling, kitesurfing, Kayaking, jet skiing or any water activity.
What Makes the Aleeda Polypropylene Top so awesome?
 

Extremely light, soft, flexible and comfortable to wear
 

High tech insulation

, "wicking" properties naturally expel water

 Great stretch properties

, means excellent flexibility

Machine washable

unlike other tops

 

Dries easily
 Naturally antibacterial
Excellent UV Protection

,conservatively rated at UPF 50+
Size Chart
** Only size M left **

Please note that these sizes are designed for a Firm Fit just like the hard core pros use.
Some people say they are a "small sizing", but we say they'll fit snugly with nothing flapping around to slow you down.
If you prefer a looser fit, please go up a size or even two.
Keep warm and feel free.
With Aleeda's specialization in manufacturing wetsuits & lycra tops,
a performance top that will go the distance is guaranteed!
The Polypropylene Top gives you freedom of movement while keeping you warm!
It's almost like summer surfing in boardies!

Aleeda, Men, Rashies, Wetsuits, Wetsuits/Rashies Aleeda long sleeve vest polypropylene top polypropylene wetsuit rash vest rashie thermal top wetsuit wetsuit top wetsuit vest wettie
Related Products
The Superstretch Top gives you freedom of movement while keeping you warm! It's almost like summer surfing in boardies!..More Info

Aleeda, Men, Rashies, Wetsuits, Wetsuits/Rashies 1 in stock

Aleeda

,

long sleeve vest

,

rash vest

,

rashie

,

Superstretch

,

superstretch wetsuit

,

thermal top

,

wetsuit

,

wetsuit top

,

wetsuit vest

,

wettie