Rashie Short Sleeve Mens XXL-XXXL/OS
sorry, we are out of stock
Looking for a Top Quality Rashie that has Great UV Protection and one that can go the distance?
What Do YOU Wear a Rashie For?
Or Is This Just a Stupid Question?
Is it to look good? 
Is it to stop getting gut rash? 
Is it so you don't get skin cancer? 
Or is it All Of The Above?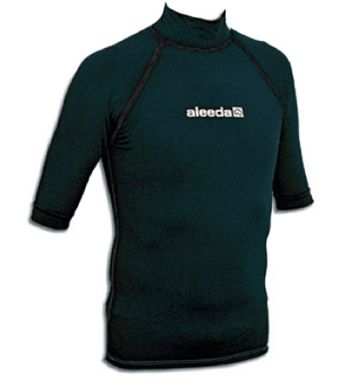 Don't waste your money on some half arsed rashie that doesn't do all of these to an excellent standard.
Why Aleeda?
At Top Deals Here we're dedicated to bringing you the best quality and value for money products we can find for every product category that we sell. We know that you take your sport seriously and you don't want waste your money on overpriced, overhyped products or products that simply don't work or won't last.
That's why it's taken us quite a while to select a wetsuit and rashie manufacturer that we can recommend.
At last we've found one!
Aleeda are an Australian company, based at Burleigh Heads, who've been making wetsuits and lycra tops since the 1960′s.
They're a company who've gone the distance, just like their wetsuits! They're deeply involved not only in Surfing, Bodyboarding, Kite and Sail, but also with Surf Life Saving and Rescue and Emergency Services, Paddling disciplines, Surf Schools and Triathlons.
Aleeda sell a lot to surf schools and other people like that really give their gear a hammering. They're on and off many times a day and they don't always get looked after terribly well. They often just get thrown in a heap and don't get rinsed and generally get trashed. But they keep coming back for more so they must be getting good value for money.
Aleeda don't waste heaps of money on sponsorship, they just make great performance wetsuits and rashies at affordable prices. You're the one who reaps the benefits. You're not paying for the name.
So here's what it comes down to
With Aleeda you'll get gear that's excellent quality and won't cost you the earth.
You'll get gear that's going to go the distance!

We stock the full range of Aleeda tops – and there are quite a few, so we thought we'd produce this comparison chart to help
you choose which will be the best top for you right now.
---
Did You Know?
Colour Makes a Difference to Sun Protection. Aleeda's Black rashies have a UPF (Ultraviolet Protection Factor) of about 300; White has a UPF of about 55. Other factors that make a difference include type of material, weave pattern, thread count and so on. Aleeda only uses the very best quality Lycra! That's all very good, but.. the cut and design of the rashie can make a big difference too. Ever seen guys with a big red stripe across their back at the top of their boardies? Or heard of someone who's had to get skin cancers cut off the back of their neck? Chances were, they weren't wearing an Aleeda rashie!Greg from Aleeda told us how it all started:
I went to Hawaii in 1983. And lo and behold the Hawaiian guys were wearing rashies. They were wearing singlets and short sleeves mainly for gut rash. So we've been making them on the Gold Coast since then. When I first made them I took them around to the surf shops and they laughed at me saying "Ballerinas wear Lycra. Guys going out in the surf wearing Lycra?.. I don't think so." But now everybody's wearing them. We've come a long way, haven't we.
So Aleeda have been perfecting rashies for surfers and other water people for nearly 30 years. No wonder they've got it right!
What Makes the Aleeda Rashie so awesome?
Made only from premium quality Lycra
Minimum of 50+ UV protection, except for some flouro colours
Flatlock seams, no rubbing or chafing
Good neck protection, mid height collars to protect to the hairline
No sunburnt crack with all rashies having ample length, leaving nothing exposed
Generous sleeves - the short sleeve models run right to the elbow
Long lasting, made of durable material
Cool to wear, made of lightweight and breathable material perfect for summer
Easy to wash, just rinse under cold water
Dries quickly
Size Chart
Choose from XXL,XXXL and OS
Note that the smaller sizes are on a separate listing and are slightly different price.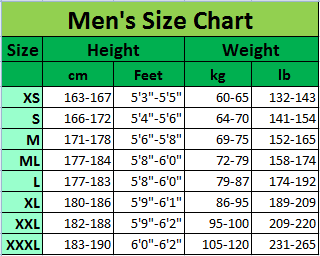 Please note that these sizes are designed for a Firm Fit  just like the hard core pros use. They are NOT a "small sizing", but will fit snugly with nothing flapping around to slow you down. If you prefer a looser fit, please go up a size or even two.
Buy Now!
And get the Best for Less!
Note:
**OS* (loose fitting over size) available in black only.**
Aleeda, Men, Rashies, Wetsuits Aleeda rash vest rashie short sleeve vest wetsuit wetsuit top wetsuit vest wettie
Related Products
The Metalite Thermal Top gives you freedom of of movement while keeping you warmer!..More Info

Aleeda, Rashies, Wetsuits out of stock

Aleeda

,

Metalite

,

rash vest

,

rashie

,

singlet

,

sleeveless wetsuit

,

thermal top

,

titanium top

,

titanium wetsuit

,

wetsuit

,

wetsuit top

,

wettie